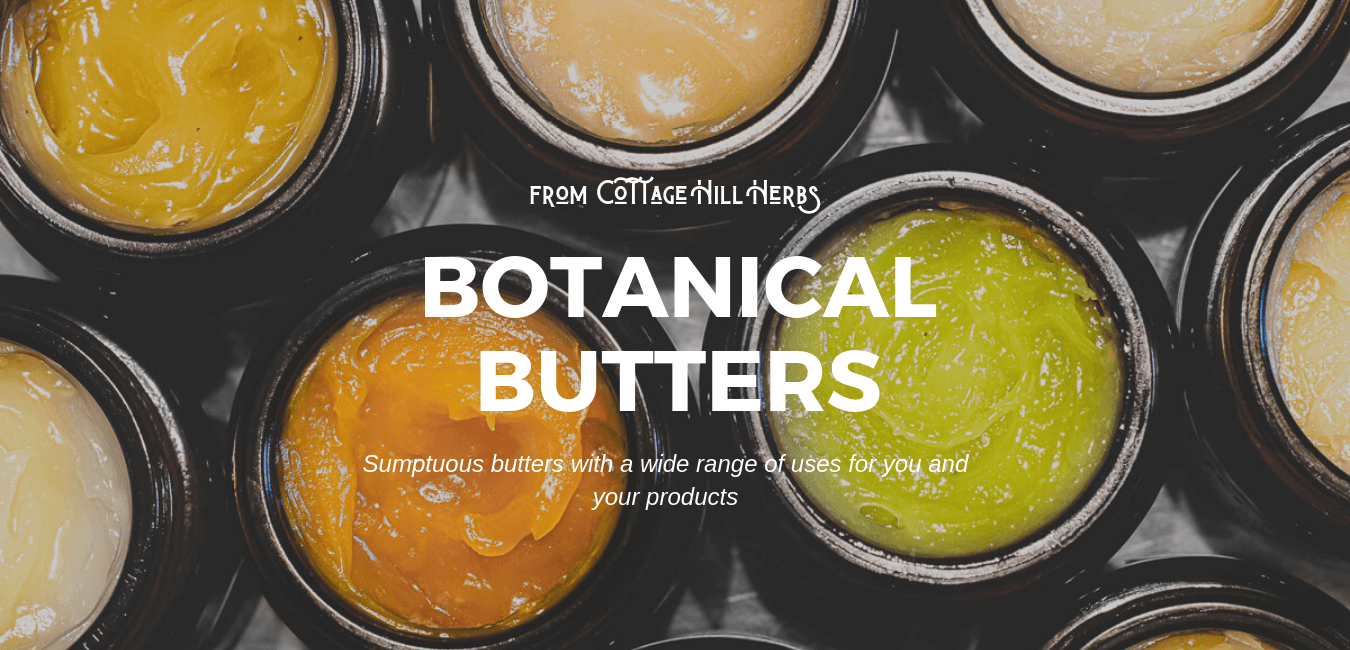 These gorgeous butters may be added to a wide range of product formulations or used as a stand alone butter, carrying the unique properties of each herbal extract contained within the butter. They are rich in a wide array of plant nutrients, fatty acids, vitamins and minerals. Extremely stable and long lasting, these butters may be used as emulsifiers in gels, lotions, creams, lip balms, eye balms, baby care, lotion bars and hair products. They are smooth , silky and soft on the skin, whilst also inhibiting a graininess and crystallisation in many products when combined with other ingredients.
They give not only a unique stability to your products, but also assist with evenly distributing the other ingredients used within each formula; acting like a transport mechanism. They are suitable for the most sensitive of skins and carry a safety level similar to organic beeswax, so may be used for baby and baby products with utmost safety.
EXAMPLES OF OUR RANGE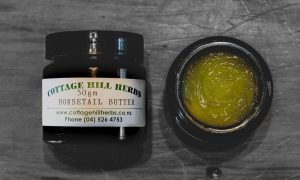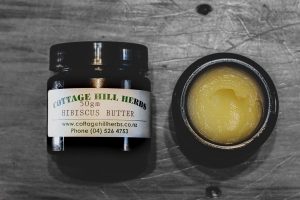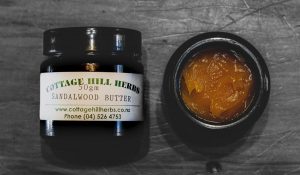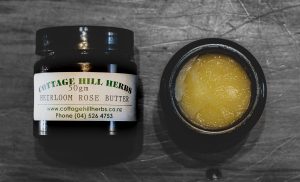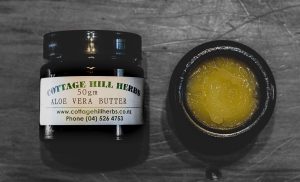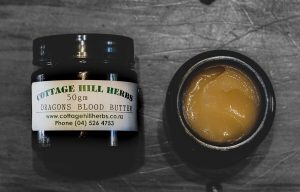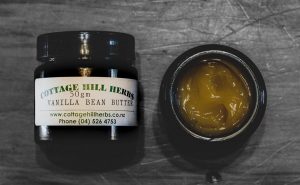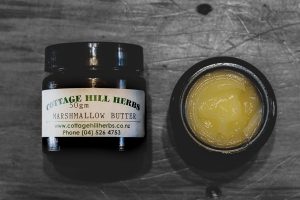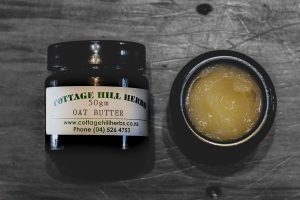 PRODUCT LIST
Butters are currently available in 50gm jars. Please get in touch to order and for prices.
You can place your order via phone  (04-526 4753)  or e-mail donna@cottagehillherbs.co.nz.
We accept credit cards and online payments as well. Please note that orders are processed Wednesday – Friday so if you place an order outside of these days you will not receive an instant confirmation. We thank you for your patience!
Aloe Vera Butter
Rich in vitamins A, B1, B2, B3, B6, B12, C and E, zinc, fatty acids, 20 minerals for correct enzyme function, amino acids and especially lignins which are responsible for aloe vera's strong ability to penetrate up to 7 layers deep.  For more aloe vera benefits, download our free e-book on aloe vera
Arnica Butter
We have gently extracted the wonderful anti-inflammatory properties of organic arnica flowers into this butter which is helpful for bruising, sports injuries, swelling, arthritic pain and many general pain conditions.
Birch Leaf Butter
An excellent anti-inflammatory herbal butter used for gout, rheumatic and arthritic pain. It helps to eliminate toxins and uric acid buildup from joints. Birch Leaf has cleansing and detoxifying properties.
Black Chia Seed Butter
A very soothing and mucilaginous butter that relieves itching, eczema, psoriasis and moisturises dry skin conditions. Gentle and soft for children and babies.
Burdock Root Butter
One of the foremost detoxifying herbs for acne an also helpful for eczema and psoriasis as it assists the body to eliminate waste substances. It is a great liver cleanser and is helpful for arthritis.
Calendula Flower Butter
A very useful skin remedy, suitable for all broken and damaged tissue. May be used on everything from babies bottoms to cradle cap, cracked nipples, varicose veins, acne, itchy skin, psoriasis, dry eczema, cracked heels or added to creams and lotions etc..
Cinnamon Butter
Assists with infected skin, respiratory problems when used in balms, chest rubs etc. It helps clear congestion and raises vitality. Lovely in men's products, scrubs, exfoliates, balms and other butter combinations.
Clove Butter
Excellent for pain formulas. May be used as is with the addition of pain relieving essential oils or combined into creams, lotions, scrubs, balms etc…
Comfrey Butter
Wound and skin healing, repairs damaged tissue due to its high allantoin content. Very helpful for eczema and other dry skin conditions. Assists with collagen enhancement.
Coffee Butter
This butter smells divine and is stimulating and awakening when feeling worn down. Great in sugar scrubs, exfoliates, butters, balms, creams and more. A great wake up butter!
Dragon's Blood Butter
Antiseptic and very wound healing for damaged tissue like burns, eczema, psoriasis and acne. Dragon's Blood is an amazing re-generator of skin cells due to its ability to rebuild collagen and elastin. It is considered one of the BEST skincare herbs. It may be used across the board in a wide range of product forms, being safe, gentle and highly effective as a youthful skin activator.
Horsetail Butter
Highly silica rich, this lovely butter is excellent for skin issues, wounds, eczema, itching, psoriasis etc. It may be rubbed into cuticles and nails to strengthen the entire nail bed. Also effective for cracked heels, hands and skin generally. Use alone or add to other bases.
Heirloom Rose Butter
A wonderful natural rose scented butter produced from our own organic fragrant roses here at the Cottage Hill Herb Farm. Safe and gentle to use alone or added to other bases.
Hibiscus Butter
Hibiscus is the natural botox plant! This plant has the ability to firm, lift, improve elasticity and moisture levels. It is extremely anti-aging; speeding up cell turnover and flexibility, creating smoother, fresher and younger looking skin. Hibiscus is a botanical source of A.H.A.'s (alpha-hydroxy acids) which assist natural exfoliation, acne and protects from free radical damage. It is also high in Vitamin C, anti-oxidants and antho-cyanins. Hibiscus is one of THE BEST and most powerful anti-aging herbs available.
M.S.M. Butter
M.S.M (Methylsulfonymethane) is an organic form of naturally bio-available sulphur. It is an anti-aging beauty mineral. M.S.M. soften cell walls to create healthy elastic cells, so lines, wrinkles, scar tissue and dark skin patches are all reduced and softened considerably. M.S.M. creates tissue pliability and helps to form healthy joints, tendons and ligaments. It can significantly reduce pain and assist to prevent cartilage breakdown and muscle damage. The Mineral Information Institute affirms that organic sulfur is used to construct almost every part of the human body – cells, tissues, bone, hair and especially skin. Use direct to area needed most.
Marshmallow Butter
Highly mucilaginous, skin soothing and nourishing – especially useful for thin, dry skin conditions. Marshmallow root is used to create this butter and when beaten into your cream bases it produces a highly nourishing, silky and marshmallow like plumpness in your base that feels wonderfully smooth and gentle on the skin. Firming, plumping for thin, worn and dry skins as well as dry aged conditions.
Oat Butter
Wonderfully silky soft and nourishing oat butter leaves a protective shield over skin surface where applied, affording longer term protection and relief from itching, eczema, psoriasis and very dry skin conditions. A very healing, gentle and safe butter that may be used alone or added to bases etc.
Sandalwood Butter
A gorgeous orange/red butter which cools and calms hot skin conditions safely and effectively. Sandalwood assists inflammatory conditions, sweating and can be used on sores, ulcers and wounds. May be used with clays for cooling, calming masks for inflamed conditions, being cleansing and heat reducing. Sandalwood is gentle and regenerating.
Vanilla Bean Butter
This yummy, richly fragrant butter is made from our organic vanilla beans. It is mood balancing and stress relieving and an effective aphrodisiac when used alone or added to creams, lotion etc. It makes for divine sugar scrubs and exfoliants and is gentle and safe over a wide range of product formulations.