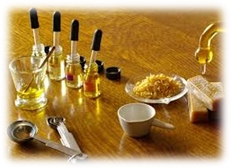 Very high quality Fragrant Oils containing fixatives and stabilisers for a scent that lasts in your products.
Pure Essential Oils in comparison are used therapeutically, are much more expensive and in products where long lasting fragrance is required pure essential oils dissipate and oxidize more rapidly than good quality fragrant oils will.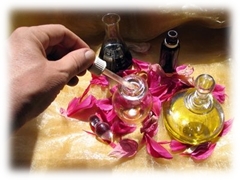 Fragrant Oils may be blended together to create gorgeous perfumes, or used individually to perfume oils, soaps, crafts, potpourri, perfumes, sachets, skin and hair care products and more.
NOTE: If you require a therapeutic effect from your products – you will need to use the appropriate pure essential oil not a fragrant oil.
Our fragrant oils are of cosmetic grade and Phthalate free
| Name | Price | Quantity |
| --- | --- | --- |
| Almond | $15.95 | 12.5ml Dropper Bottles |
| Amber | $15.95 | 12.5ml Dropper Bottles |
| Apple Blossom | $15.95 | 12.5ml Dropper Bottles |
| Anjou Pear | $15.95 | 12.5ml Dropper Bottles |
| Apricot | $15.95 | 12.5ml Dropper Bottles |
| Arabian Spice | $15.95 | 12.5ml Dropper Bottles |
| Blackboy Rose | $15.95 | 12.5ml Dropper Bottles |
| Black Magic | $15.95 | 12.5ml Dropper Bottles |
| Blue Man | $15.95 | 12.5ml Dropper Bottles |
| Boronia | $15.95 | 12.5ml Dropper Bottles |
| Caramel | $15.95 | 12.5ml Dropper Bottles |
| Chanel No. 5 | $15.95 | 12.5ml Dropper Bottles |
| Chinello | $15.95 | 12.5ml Dropper Bottles |
| C.K. Seek | $15.95 | 12.5ml Dropper Bottles |
| Chocolate | $15.95 | 12.5ml Dropper Bottles |
| Cinnamon Stick | $15.95 | 12.5ml Dropper Bottles |
| Cinnamon Sugar | $15.95 | 12.5ml Dropper Bottles |
| Coconut | $15.95 | 12.5ml Dropper Bottles |
| Coffee | $15.95 | 12.5ml Dropper Bottles |
| Caf' Latte | $15.95 | 12.5ml Dropper Bottles |
| Dragonsblood | $15.95 | 12.5ml Dropper Bottles |
| English Rose | $15.95 | 12.5ml Dropper Bottles |
| Exotic Woods | $15.95 | 12.5ml Dropper Bottles |
| Fidji | $15.95 | 12.5ml Dropper Bottles |
| Freesia | $15.95 | 12.5ml Dropper Bottles |
| Fresh Bamboo | $15.95 | 12.5ml Dropper Bottles |
| Fresh Pear | $15.95 | 12.5ml Dropper Bottles |
| French Vanilla | $15.95 | 12.5ml Dropper Bottles |
| French Pear | $15.95 | 12.5ml Dropper Bottles |
| Gardenia | $15.95 | 12.5ml Dropper Bottles |
| Ginger | $15.95 | 12.5ml Dropper Bottles |
| Honey | $15.95 | 12.5ml Dropper Bottles |
| Honeysuckle | $15.95 | 12.5ml Dropper Bottles |
| Iolanda | $15.95 | 12.5ml Dropper Bottles |
| Japanese Dragon | $15.95 | 12.5ml Dropper Bottles |
| Jasmine | $15.95 | 12.5ml Dropper Bottles |
| Jellybean | $15.95 | 12.5ml Dropper Bottles |
| Kamasutra | $15.95 | 12.5ml Dropper Bottles |
| Kumquat | $15.95 | 12.5ml Dropper Bottles |
| Lemon Peel | $15.95 | 12.5ml Dropper Bottles |
| Lilac | $15.95 | 12.5ml Dropper Bottles |
| Linden Blossom | $15.95 | 12.5ml Dropper Bottles |
| Lovely Rose | $15.95 | 12.5ml Dropper Bottles |
| Magnolia | $15.95 | 12.5ml Dropper Bottles |
| Mango | $15.95 | 12.5ml Dropper Bottles |
| Mint Chocolate | $15.95 | 12.5ml Dropper Bottles |
| Moroccan Orange | $15.95 | 12.5ml Dropper Bottles |
| Musk | $15.95 | 12.5ml Dropper Bottles |
| Nirvana | $15.95 | 12.5ml Dropper Bottles |
| Oakmass Premium | $15.95 | 12.5ml Dropper Bottles |
| Ocean Breeze | $15.95 | 12.5ml Dropper Bottles |
| Opium | $15.95 | 12.5ml Dropper Bottles |
| Orange Blossom | $15.95 | 12.5ml Dropper Bottles |
| Osmanthus | $15.95 | 12.5ml Dropper Bottles |
| Papaya | $15.95 | 12.5ml Dropper Bottles |
| Passionfruit | $15.95 | 12.5ml Dropper Bottles |
| Pina Colada | $15.95 | 12.5ml Dropper Bottles |
| Pineapple | $15.95 | 12.5ml Dropper Bottles |
| Rain Forest | $15.95 | 12.5ml Dropper Bottles |
| Raspberry | $15.95 | 12.5ml Dropper Bottles |
| Rose | $15.95 | 12.5ml Dropper Bottles |
| Rose Petal | $15.95 | 12.5ml Dropper Bottles |
| Saffron & Honey | $15.95 | 12.5ml Dropper Bottles |
| Sandlewood | $15.95 | 12.5ml Dropper Bottles |
| Sensual Amber | $15.95 | 12.5ml Dropper Bottles |
| Strawbery | $15.95 | 12.5ml Dropper Bottles |
| Sweetgrass | $15.95 | 12.5ml Dropper Bottles |
| Sweetpea | $15.95 | 12.5ml Dropper Bottles |
| Tiarre Flower | $15.95 | 12.5ml Dropper Bottles |
| Tropical Coconut | $15.95 | 12.5ml Dropper Bottles |
| Tuberose | $15.95 | 12.5ml Dropper Bottles |
| Vetivar | $15.95 | 12.5ml Dropper Bottles |
| Victorian Christmas | $15.95 | 12.5ml Dropper Bottles |
| Violet | $15.95 | 12.5ml Dropper Bottles |
| White Linen | $15.95 | 12.5ml Dropper Bottles |
| White Musk | $15.95 | 12.5ml Dropper Bottles |
| Ylang Ylang | $15.95 | 12.5ml Dropper Bottles |
| Yummy Passionfruit | $15.95 | 12.5ml Dropper Bottles |