We stock the following waxes
Beeswax
Unrefined honey scented pellets of pure Beeswax. Used extensively for thickening oils into ointments, soaps and candles etc. Melted gently and mixed with oils it forms soothing and healing ointments high in vitamins and minerals. It helps to prevent skin dehydration and creates a protective cover on the skin's surface.
$12.95 per 100gm  
---
Macadamia Wax
This hard white wax is the vegan alternative to Beeswax and is not heavy in a formula like Beeswax can be. It is smooth and non clogging when used in creams, lotions and soaps. Is wonderful in lip balms. Recipes may need to be recalculated but use approximately ¼ of the Beeswax ratio.
$14.95 per 100gm
---
Candelilla Wax
A golden vegetable wax, harder than beeswax, which may be used to harden softer waxes. It may be used in creams, lipsticks, balms etc to help lock in moisture when applied to skin. Candelilla provides glide and slip and holds moisture levels once applied. A vegan alternative to beeswax.
$6.95 per 50gm
---
Vegetable Emulsifying Wax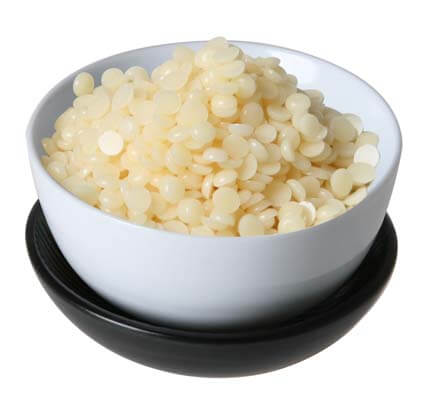 Used in creams and lotions to prevent the water and oil ingredients from separating. Derived from Coconut Oil – ensuring emulsions remain stable.
$12.95 per 100gm
---
Olive Emulsifying Wax – Organic
The first certified organic vegetable emulsifying wax on the market. Olive produces a beautiful cream base with high anti – oxidant skin benefits. Rich and emollient.
$22.95 per 100gm
---
Carnauba Wax
Sometimes known as Brazil Wax – it is the hardest naturally occurring wax, coming from Brazil. Used as thickening agent, it gives a glossy, smooth and lustrous shine but remains flexible. It is much used in car waxes to impart shine and gloss. In skincare it is used in lipstick, lip balms, mascara, eyeliners, deodorants, creams and hair products. Add to solid phase in emulsification of creams or salves. Harder than beeswax with a much higher melting point.
$14.95 per 100gm
---
Stearic Acid
A naturally occurring cosmetic grade fatty acid. Used as an emulsifier to harden soaps, thicken creams, lotions shaving creams, butters, deodorants etc. It acts as a stiffner, giving a thick creamy texture to your products. Use 3 – 5% with oils. Our stearic acid is a plant derived emulsifying wax.
$11.50 per 100gm
---
Hair Conditioner Emulsifying Wax
A mild, gentle vegetable based emulsifying wax to create your own conditioner bases with: – Instructions for use: to make 1.5 litres of conditioner base; simply heat 500mls of distilled water to 70°c. Add 50gms of the conditioner wax and beat until thick. Cool slightly and add more cooled distilled water until consistency is thick but pour-able and add your favourite preservative. Bottle and store until required, then make up with Aloe Vera, Horsetail tincture, Spirulina extract, cold herbal decoction or hydrosol and essential oil.
$12.95 per 100gm