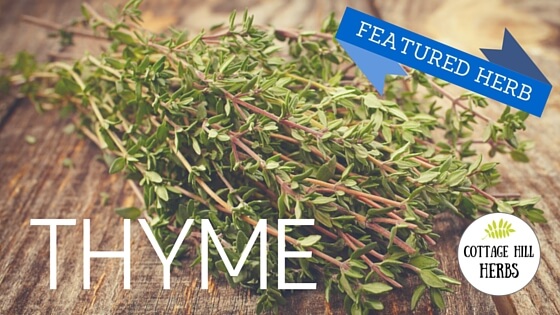 It's been a challenging few months here at the herb farm, what with the bridge going out and having to close the shop to the public until further notice. The future of the bridge is still uncertain but, as they say, better thymes are ahead…or only thyme will tell…or some other thyme pun that will segue us nicely into our featured herb this week; thyme.
Thyme (Thymus Vulgaris)  is one of the easiest of all herbs to grow, whether grown from seed or from bundles of store bought plants.  However you grow it, plant heaps of it because it's simply fantastic and its uses are amazing.
Thyme enlivens the garden, purifying the air and enhancing its overall health…seriously, one can simply not have too much of it. Thyme enjoys an alkaline soil and a hot sunny position – it also does very well grown in pots which generate the extra heat that thyme craves. Wherever it grows, it is used in medicine, baths, tonics, general cleaning, and most of all in food. Thyme is added traditionally to soups, stews, casseroles, meat dishes, breads, potato and tomato dishes, apples and cheeses to list just a few.
GROWING THYME
Don't have thyme in the garden? Here's how to plant it!

If you are growing from seed, sow seeds in trays with moist but not wet soil and cover very lightly. The seed is very fine and will rot if planted too deeply.
Seeds germinate in 3-4 weeks at 21ºC , so Spring is the optimum time for sowing. When they are about 2cm high then they are ready to be "hardened off" and then planted. Hardening off involves introducing your seedling babies gradually to the outdoors  so that they have time to acclimatize. Have a quick google if you aren't sure about the specifics of this but in short it involves putting your seedlings outside during the day for increasing periods of time and bringing them in at night. When well hardened, plant them about 30cm apart or closer if you want a hedge. Thyme plants grow to about 30cm in height and make an easy care inexpensive hedge that the bees love.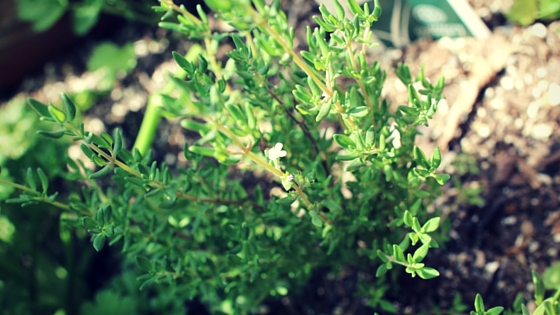 Thyme tolerates even the heaviest of frost and responds well to trimming. Cut back about 1/3 of the bush each time.  I find I can get about three cuts each year if I start in early Spring. Thyme prunings dry well and store well for later use – however the flavour of the fresh plant is always superior. Harvest thyme when in flower, cutting after the dew has dried and before the sun is at full strength, as this diminishes some of its flavour due to the evaporation of essential oils.
USING THYME
There are just tonnes of uses for thyme, but I really love thyme infused in cider vinegar. It is wonderful in cooking and exceptionally useful when used in the bath. Take a wide mouthed jar and pack it with either fresh or dried thyme and cover completely with organic cider vinegar. Place in a warm position for at least three weeks, shaking daily, then strain and bottle appropriately. In the kitchen, this adds great flavour to any dish where thyme is suitable. In the bath, it enhances the immune system when used regularly, it helps heal skin conditions and is especially useful for tinea, ringworm, athletes foot or other fungal problems. It may also be used as a footbath for some of these conditions. Furthermore, it can be helpful for rheumatic pain also.
Now is the thyme…plant some!
Donna