Marshmallow Root
A member of the Mallow family with a history dating back to the old testament when it was eaten as a food and considered a delicacy by ancient Chinese and Romans. Once the main ingredient in the production of this amazing plant's namesake "The Marshmallow". It contains a sticky, sweet carbohydrate liquid which is very emollient, soothing to the digestive and urinary tracts and is much loved for its benefits to the respiratory system and in particular for the creation of soothing, healing cough syrups. Its healing properties are unsurpassed however when it comes to skincare and for untangling and softening the hair. Making the root into a decoction, it may be massaged into the scalp to eradicate dandruff, soothe and heal dry, itchy scalp and to promote hair growth and shine as well as to untangle frizz and knots from the hair.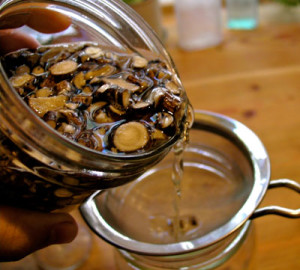 Because of Marshmallow's high mucilage content, it helps to restore lubrication and brings water into hardened dry tissues, where it produces a noticeable softening and plumping effect. A decoction may also be massaged into tired or strained muscles and joints where it eases tightness, rigidity and pain. A well made infused oil of Marshmallow Root is also most beneficial when used in this manner too.
Marshmallow contains high levels of calcium, magnesium and vitamin A. These help to relax and soothe muscles and hardened tissues of the body. It has an ability to bind and eliminate toxins assisting the body to cleanse more efficiently. It assists arthritic conditions, lowers bowel transit time and absorbs toxins from the bowel and is especially indicated to use for dry, inflamed and highly sensitive parts of the body.
The infused oil or glycerite may be used in many types of skincare products, where its use is not only highly beneficial but also extremely safe – even in baby care products.
Some areas to consider its use are:
Massage blends
Varicose vein treatments
For pain and swelling products
Healing hand creams
Baby balms and creams
Eczema and psoriasis blends
Almost all skin creams and lotions, especially those for dry, aged and sensitive skin types.
Hair conditioners and oils
Capsules for internal use
Body butters
Cough syrups
Poultices
Vaginal products
A truly amazing plant with a multitude of uses and benefits.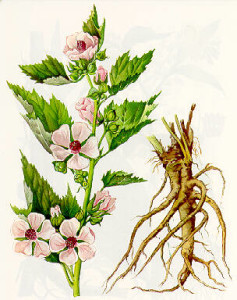 Right now is the best time for harvesting Marshmallow Root for the strongest concentration of its active constituents if you are growing this very beautiful plant, but do not harvest the root until the 3rd year of growth. It may be grown from seed or root division.
~ Dried Root, Powder, Infused Oil, Glycerite and Tincture available in our store. ~