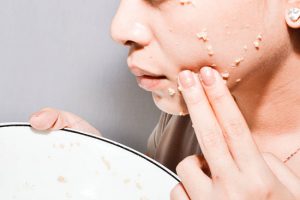 Ingredients:
25gm Organic Colloidal Oatmeal
10gm Organic Rose Petal Powder
10gm Goats Milk Powder
6gm Finely ground Pumice Powder
Organic Aloe Vera Gel
Combine all of the dry Ingredients well in a bowl than add enough Organic Aloe Vera Gel to create a thick paste. Using Circular motions apply to face, neck and other areas requiring exfoliation, gently rubbing to remove dead, dry skin. Exfoliation without harsh chemicals is the key to improving skin tone and condition, especially important for increased collagen and elastin production. This is a divinely scented and most effective exfoliator for reducing fine lines and wrinkles when used once to twice a week. More pumice powder can be added for hard skin areas such as hands and feet. No essential oils are required due to the use of the organic rose petal powder and its wonderful scent. The recipe will make enough for 3-4 Applications. Should you wish to package this product for a longer shelf life, it is recommended that you add 3 drops of Citracidal C and 3 drops of Benzine Tincture for an extended shelf life.
Note: All ingredients etc necessary for this amazing scrub are available from our store or online by email order.