Anti – Cellulite Oil
Using a double boiler and gentle heat over 5 hours (see infused oil info on our website for more in depth instructions on creating herbally infused oils).
Place 1 part Calendula Flowers, 1 part Rosemary, 1 part Juniper Berries and 2 parts Birch Leaf (all dried herbs), cover with Sweet Almond Oil and heat as per instructions, stirring occasionally for 5 hours.
NOTE: It is very important not to heat the herbs and oil at too high a temperature, turn heat off and on often to maintain a very gentle heat throughout the processing time.
Strain the mixture through several layers of muslin and add Rosemary Oleoresin to assist with shelf life of the oil. (10 drops to 500mls, or adjust to suit your volume.)
Then add to each 100ml of oil blend:
– 5 drops Juniper pure essential oil
– 5 drops Lemon pure essential oil
– 5 drops Rosemary pure essential oil
– 8 drops coffee pure essential oil
Shake well to combine and massage well into body areas holding fluid (cellulite) twice daily.

Taking the following herbal tea regularly will also assist with reducing cellulite from tissues.
Anti – Cellulite Tea
1 part Rosemary
2 parts Horsetail
1 part Stinging Nettle
1 part Fennel Seed
1 part Calendula
1 part Juniper Berries
Combine well, store out of light in airtight container. Use 2 teaspoons of mixture per cup at least twice daily.

Anti – Cellulite Scrub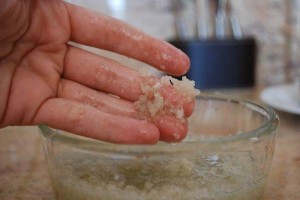 1/2 cup freshly ground coffee granules
2 cups raw sugar
2 – 3 tablespoons of the anti – cellulite oil blend (above)
Note: The mixture should resemble damp sand – adjust the oil quantity to achieve this. Blend well. Place in a wide mouth jar. Rub into areas of cellulite 3 – 4 times weekly.

Birch Leaf Capsules
Make your own from our organic Birch Powder and empty vegetable capsules, or contact us for these.
Birch encourages trapped fluids to be excreted, promotes elimination of toxins and promotes metabolic activity by assisting fluid movement outwards through stagnant tissue.
Highly recommended for helping gout, arthritis, osteoarthritis and fibromyalgia. May also assist with knee problems, stiff muscles and sore tendons and joints.
Recommended for skin problems, hardening and drying conditions like sclerosis, psoriasis and dry scaly skin and scalp.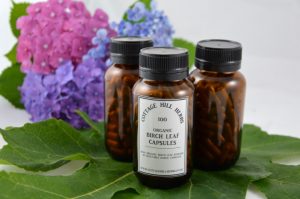 Scalp & Hair Tonic Oil Formula
1 part Rosemary
1 part Stinging Nettle (dried)
1 part Saw Palmetto
2 parts Birch Leaf
Combine all herbs in the top of a double boiler and cover with cold pressed oil of Jojoba. Process for 5 hours (as in Anti – Cellulite Oil instructions)
Strain and bottle, adding 10 drops Rosemary pure essential oil (per 100ml bottle).
Massage well into scalp regularly. This combination assists greatly with hair loss, dandruff and dry itchy scalp problems.