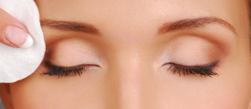 20ml Organic cold pressed castor oil
1 Teaspoon shea nut butter
1 Teaspoon coconut oil (solid type)
10ml Organic rosehip seed oil
10ml Oat infused oil
8 Drops geranium pure essential oil
Melt shea nut butter and coconut oil in a cup placed in hot water. Once melted remove from hot water and cool well. Slowly add to the other oils, stirring briskly to prevent clumping. Add essential oil, place in a pump bottle and shake well.
Makes a rich silky anti-wrinkle oil blend that is very effective at removing makeup, eye shadow and mascara, whilst enriching delicate eye tissue in this sensitive area.