Clay is a wonderful way to introduce a new, personalized treatment into your salon or create your own day spa at home! Making up a skin care treatment is simple and keeps you in control of the exact ingredients you use.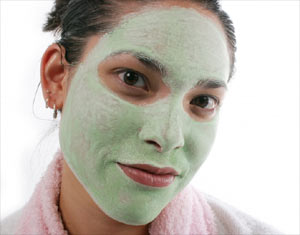 1. Cleanse skin with your cleanser.
2. Tone skin with hydrosol:
a. German Chamomile–Anti inflammatory, gentle and calming.
b. Lavender–All skins, including mildly blemished skin.
c. Orange Flower-Helps to balance oily skin.
d. Rose–All skins, particularly sensitive or mature.
e. Rosemary–Refreshing and stimulating for normal to oily skin.
f. Watermelon–Cooling, toning and soothing.
g. Witch Hazel–Slightly more astringent and stimulating, suitable for sallow or tired skin.
h. Manuka-Excellent for troubled skin.
i. Eucalyptus-Helpful for troubled skin.
j. Neroli-Lovely in cleansing products.
3. Mix 1 level tablespoon clay to a thick paste with hydrosol. Use as an exfoliant. Massage into the skin, wetting fingers to aid manipulation. The fine grains in the clay will gently exfoliate the dead skin cells. Allow to dry. The drying action of the clay (green being the most absorbent) will absorb toxins and draw impurities to the surface of the skin (this will help extraction).
4. Wash mask away with water.
5. Apply cool compress with one drop Lavender oil or spray face with hydrosol of choice.
OR
6. You can apply different clays to different parts of your face for example red clay around the eye area, pink on the cheeks and green on the oily "T".
7. Remove clay with hot towels or water and finish with a hot aromatic compress.
8. Massage the skin using Jojoba oil (known for its soothing nature and compatibility to the skin) and a selection of essential oils at 1% dilution levels.
Click here to view more information about clays.
Click here to view more information about our clay products for sale.