The simple, natural & inexpensive way to healthy skin.

Active french clays,Bentonite, Kaolin, Black & Moroccan red clay
These pure chemical free clays consist of curative volcanic ash or feldspar minerals. Dug from the earth and carefully sun dried – each of these beautiful clays has similar abilities, but they differ in their level of absorption and mineral properties. Cosmetic clays regularly used, rejuvenate skin, exfoliate and stimulate blood circulation to the skin, removes dead skin cells and debris from the pores and refine pores to create a smooth, healthy glow.
French clay properties and use: –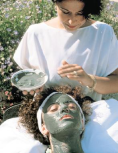 Green Clay:
Very rich in magnesium, iron, potassium, copper, selenium, zinc, manganese, calcium, silica and other macro and micro nutrients. Helps reminerilisation, regeneration of cells and tissues, draws and binds toxins and calms inflammation. Green clay is very effective for acne, helping to halt the growth of bacteria, and prevent the formation of scar tissue. It can be used in tooth powder to remove plaque and whiten teeth. It may act as an analgesic and healer for pain, infected wounds, rashes, spots, eczema, dermatitis, psoriasis, cold sores, haemorrhoids, and acne. It restores the natural PH, deodorizes and heals. Never mix green clay with a metal spoon or store in a metal container, as it loses its beneficial electromagnetic quality.
Red Clay:
Is high in iron oxide – is suitable for post – acne, mature, dehydrated, tired, sensitive and stressed skin. Red calms inflammation, refines texture and is oilier than other colours. Good for bags under eyes and broken capillaries.
Pink Clay:
A skin softening and refining clay. It tones the epidermis (outer layer) of skin. Mainly used for dehydrated and sensitive skin. Ideal as a body wrap, helps to firm the bust, thighs, stomach and upper arms. Excellent in a skin maintenance programme.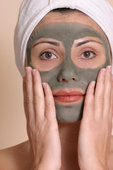 Yellow Clay:
A mild clay, suitable for most skin types, it stimulates circulation, revitalizes, and restores tired, neglected, sun damaged skin. Yellow clay does not draw oils from the skin excessively. Good for dry, sensitive and normal skin types.
White Clay:
The mildest of all the clays. It stimulates circulation to the skin, whist gently cleansing and exfoliating. It does not draw oils and can be used on dry, delicate, young, sensitive or mature skins. White french clay is an excellent body deodorant and natural alternative to talcum powder.
Bentonite Clay:
Sometimes known as Montmorillonite clay. This clay swells up and stretches like a highly porous sponge, drawing toxins into its spaces. Good as an anti-irritant in lotions and creams for eczema. May be used in baby powders, sunscreens, face creams, mud packs and detox baths. High in silica, iron, magnesium, calcium, and potassium. A good clay for acne and infected skin.
Kaolin Clay:
Increases local circulation, helps inflammation and is mildly drying and very skin tightening. High in silica, iron, zinc, calcium and magnesium, kaolin is naturally adsorbent, making it effective in products like scrubs, deodorants, face powders, masks, toothpowder, and soaps. A very very mild clay, suitable for sensitive skins and is less expensive than other clays. May also be used to fix scent.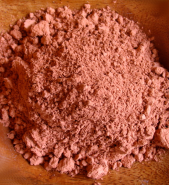 Moroccan red clay:
Also known as rhassoul clay, this is a super fine, silky powder very rich in silica, magnesium, and calcium, and dense in many more nutrients. Moroccan clay feels silky smooth on the skin, it exfoliates, draws and is very lubricating. This clay is used in many, many commercial cosmetic products and haircare products.
Black Clay:
This clay is very high in iron, is very nourishing, cleansing and conditioning to the skin. It has wonderful oxygen producing properties, making it useful in a wide range of skincare products. May be mixed with other clays. Great for creating a black lip balm or talc.
Poultices:

Are made by applying a thick layer of clay paste, either directly or onto gauze for easy removal. Poultices must never be re-used as toxins are drawn into the clay. Clays can be mixed with cold pressed oils (Jojoba, Almond or other choice) Honey, natural yoghurt, egg yolk, powdered herbs, Aloe Vera or gels. E.g. clay mixed with many of these ingredients will give a softer texture for more sensitive skins etc. this also prevents clay from drying too quickly – thereby keeping the clay more active for longer.
Clays – especially the french or black clays may also be used to add colour, minerals and softness to soaps, creams and lotions, gels, hair products, lipsticks and balms, mascaras, aftershave talcs, eyeliners, blushers and make-up bases, and deodorants.
For problem, spotty and acne skins – use at least twice weekly. For other skin types a once weekly treatment will enhance and improve skin tone, colour, texture, lines and wrinkles and general skin health.
Click here to view more information about our clay products for sale.