COUGH MIXTURE:
1 large tsp of organic linseed
30gm liquorice root – dried
115gm organic raisins
Up to 115gm honey or brown sugar
1 tablespoon organic apple cider vinegar or lemon juice
Put the linseed, liquorice and raisins into 9 litres of water and simmer until liquid is reduced by ½. Keep the lid on the pot and simmer gently. Then add, (after straining), although this is not necessary, the honey or brown sugar and the vinegar or lemon juice. Simmer just until well combined. Bottle and keep refrigerated. Drink when going to bed or whenever coughing starts.
MACARONI PIE:
375gm macaroni
1 onion
4 tomatoes
1 capsicum
2 cloves garlic
Salt and pepper
2 tsp honey or sugar
Mushrooms, herbs, celery, parsley may be added if desired
2 tablespoons butter
1 tablespoon flour
1 egg
1 ½ cups milk
1 cup grated cheese
½ tsp nutmeg
Cook macaroni until just tender and drain. Mix in ½ cup cheese and leave to cool whilst cooking filling. Sauté veges etc in little olive oil until soft. Melt butter in a small saucepan, add flour and cook 1 minute. Add milk and beaten egg and cook until thickened, add nutmeg. Mix ½ of this cream sauce in with tomato, vege mix. Place ½ macaroni in baking dish, then cream filling, and then last of the macaroni. Place last ½ of sauce on top and sprinkle with cheese. Cook in mod oven for ½ hour. This is very inexpensive and feeds 6.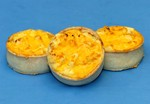 BROWN RICE QUICHE:
2 medium onions
60gm butter
1 ½ cups wholemeal flour
1 tsp Himalayan or celtic salt
90gm butter
2 eggs
1 cup milk
1 cup grated tasty cheese
1 tablespoon tarragon – dried
1 cup cooked brown rice
300gm kidney beans – cooked
2 cups chopped silverbeet
Slice onions thinly. Melt butter in pan and cook onions till softened. Set aside. Place flour and ½ tsp salt in a bowl and rub in the butter until mix resembles coarse breadcrumbs. Add enough ice water to form a firm dough. Roll out pastry on a floured board and line a 23cm flan ring. Beat eggs lightly and combine with the milk. Stir in ¾ of the cheese, tarragon, silverbeet and salt. Then fold in the onions, rice and beans. Pour into the flan case and sprinkle remaining cheese on top. Bake in a moderately hot oven for 35-40 minutes or until set. Serves 6 and is very cost effective.