25gms Dried Liquorice Root
10gms Dried Thyme
1 to 2 Cups Brown Sugar
2 Tablespoons Cider Vinegar
5 Cups Water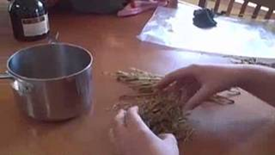 Very gently simmer the dried herbs in the water for 20 minutes with the lid on the pot. Then strain and place liquid back into the saucepan. Add Cider Vinegar and half the sugar, simmer, stirring frequently – adding more sugar if required until a syrup is formed and taste is acceptable.
This may be as thick or runny as you prefer – simply add more sugar till the mixture is acceptable, taste wise.
Pour into sterilised bottles and store in the fridge. This mixture will keep at least a year. Take as required for coughing, congestion, bronchitis and asthma.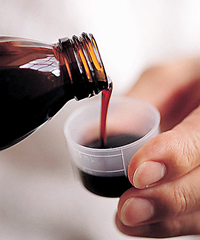 Very safe for all ages, including small children.