Creating your own natural exfoliant & cellulite exfoliant (step by step)
(NOTE: All products in red

are available in our herbal store or email/phone us to order)
Step One:
Sterilize all equipment, i.e bowls, spoons and pots to be used. An effective sterilizing solution can be made using a good 40% proof vodka, Citricial C & Lemongrass Pure Essential Oil.
(To make in 100ml spray bottle: 96 mls Vodka, 2 mls (40 drops) Citricidal C, 10 drops Lemongrass Pure Essential Oil.)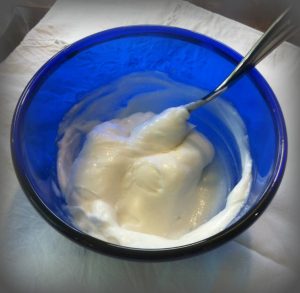 Step Two:
Add to your sterilized bowl, 1 large tablespoon of Organic Moisturising Base Cream.
Add 3 drops Citricidal C and 3 drops Tincture of Benzoin – (these are your natural preservatives)
Step Three:
Then add 5 drops Horsetail Tincture (for silica content)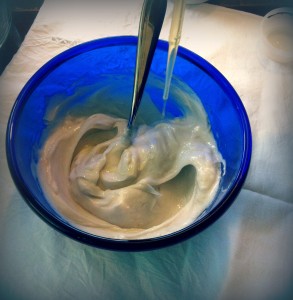 5 drops Aloe Vera Extract (anti-aging and transporting properties)
5 drops Green Tea Extract (anti-oxidant)
2 – 3 teaspoons Pumice Powder (exfoliant)
15 drops Cacao Bean Organic Extract (powerful anti-oxidant, anti-aging, moisturiser)
4 drops Geranium Bourbon Pure Essential Oil (good for all skin types).
Step Four:
Mix all these ingredients together in your bowl – testing the amount of exfoliation you feel suits your skin by rubbing into the back of your hand in a circular motion.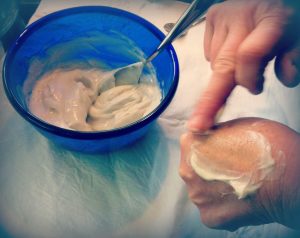 Step Five: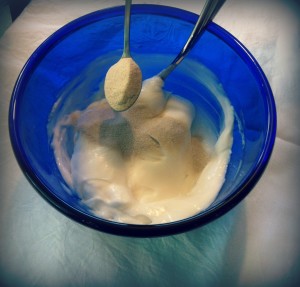 Add more Pumice Powder if warranted. The object is to gently remove dead skin cells from the face or body without irritation and to leave the skin feeling clean, alive and softly nourished.
Step Six:
If wanting to use the exfoliant away from the face, i.e elbows, hands, feet or body – simply adjust the level of exfoliation needed by adding more Pumice Powder.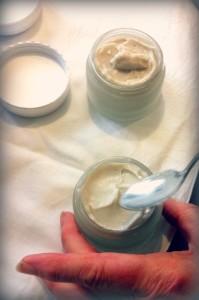 When you're happy with the finished products, place the mixture into your sterile pot.
OR
Turn the same mixture above into an effective exfoliant scrub for cellulite by omitting the Geranium Bourbon Pure Essential Oil from the first recipe only –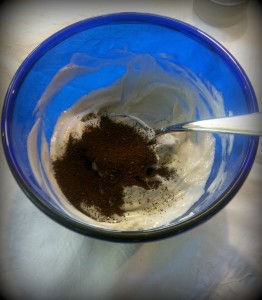 then add a further 3 – 5 teaspoons of Organic Ground Coffee Granules (not the instant kind), use plunger type or grind your own coffee beans for best effect.
Add 5 dropsCoffee Pure Essential Oil and mix till blended. Test again on the back of your hand, adding more coffee granules if needed.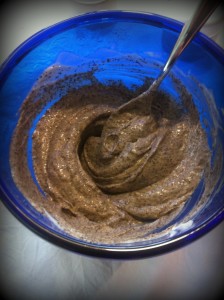 Please Note: This exfoliant using coffee is not suitable for your face, but may be used on the body cellulite areas, hands, feet, elbows or for the man in your life to use. It smells divine.
NATURAL EXFOLIANT RECIPE
1 large tablespoon

Organic Moisturising Base Cream

3 drops

Citricidal C

3 drops

Tincture of Benzoin

5 drops

Horsetail Tincture

5 drops

Aloe Vera Extract

5 drops

Green Tea Extract

15 drops

Organic

Cacao Bean Extract

2 – 3 teaspoons

Pumice Powder

4 drops

Pure Essential Oil of Geranium Bourbon
_____________________________________________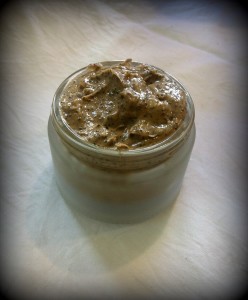 EXFOLIANT CELLULITE SCRUB
Same recipe / amounts as in the first recipe (minus Geranium Bourbon Essential Oil) plus:
3 – 5 teaspoons Organic Coffee Granules – fine ground plunger or home ground
5 drops

Coffee Pure Essential Oil