Certified Organic Sea Buckthorn Fruit Oil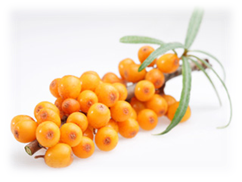 This beautiful and richly coloured oil has an unsurpassed level of carotenes and vitamin A and E and is second only to rosehip in its vitamin C content. An extremely high level of essential fatty acids, vitamins B1, B2, K and P and Flavonoids.
Because of the high content of nutrients essential for the metabolism of skin cells, Sea Buckthorn oil is used to combat wrinkles, dryness, aged skins, sun damage, wound healing of injuries to skin, such as burns, eczema, ulcers, sores and lesions.
Sea Buckthorn is both medicinal and anti-ageing, restorative and revitalising in both skincare and skin healing products.


Shea Nut Butter Oil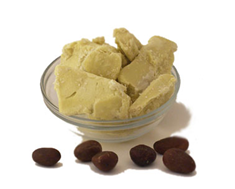 This is the oil form of our very popular shea nut butter. The oil form is similar to our liquid coconut oil where the fatty solid portion has been removed, keeping the product in a liquid state rather than solid form.
This oil contains all of the wonderful properties of the solid form, but is able to be added to other oils for use in massage oils etc. it contains some ultra-violet protection in either form and is added to all products where a sun screening effect is needed. It also assists in healing of bruising and pain and is considered a warming, penetrating and very emollient oil.


Tamanu Nut Oil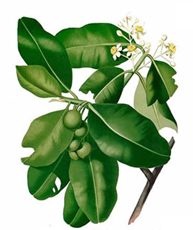 This fantastic oil from Madagascar was considered to be a sacred gift of the gods according to the ancients and is widely used by native peoples for its amazing healing effects on the skin and body. Research has shown a 70 – 75% success rate in alleviating rheumatic pain when used daily.
Bioscience laboratories conducted studies on its ability to improve the appearance of scars over a 9 week test period, scars were rated for roughness, length and width and degree of skin appearance.
The oil was applied twice daily over the 9 week period. There was a significant improvement after just 6 weeks and improvement continued in the further 3 weeks of this trial.
Tamanu oil fades stretch marks dramatically. It was also applied during the 1920's by a nun in Fiji – a sister Marie-Suzanne to leprosy victims with positive results.
Tamanu oil promotes new tissue formation, accelerating healing and healthy skin growth. It is an analgesic oil helping to relieve the pain of sciatica, arthritis, burns, post-surgical wounds, skin allergies and is powerfully anti-inflammatory. It is also effective for gout, for fungal skin and nail problems, like athletes foot, ring worm etc. also utilised for insect bites, acne and acne scars, psoriasis, diabetic sores and ulcers, anal fissures, sun burn, eczema, herpes, diaper rash and even to reduce foot and body odour.
Tamanu nut oil is truly remarkable.


Additional Cold Pressed Oils We Stock Are:
Aloe Vera Oil
Almond Oil (Sweet)
Apricot Kernel Oil
Avocado Oil
Borage Seed Oil
Camellia Oil
Castor Oil
Coconut Oil
Evening Primrose Oil
Grape Seed Oil
Hemp Oil
Jojoba Oil
Macadamia Oil
Neem Oil
Passionflower Oil
Pumpkin Seed Oil
Rosehip Seed Oil
Rice Bran Oil
Sunflower Seed Oil
Sesame Seed Oil
Turkey Red Oil
Walnut Oil
Wheatgerm Oil
We also have a huge range of herbally infused oils.