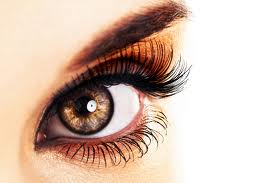 Do you want beautiful, luscious, full eyelashes that are thick and healthy?
Try our recipe for an Eyelash thickener that is organic, chemical free and will not harm your skin. If you use too much eye makeup and mascara it causes the feather like lashes to break and become brittle- using this product will help to strengthen your lashes if used regularly.
Forget Cleopatra- you will be the envy of your friends with this gorgeous product. Apply a small amount often- too much at a time will make your lashes stick together.  All ingredients are available in the shop to purchase so you can make this yourself in the comforts of your own home.
RECIPE: 
15gm Beeswax
5mls Organic Cold pressed Castor Oil
2mls Meadowfoam Seed Oil
2mls Organic Cold Pressed Jojoba Oil
METHOD: Combine all ingredients in a double boiler and stir until well combined. Pour into sterilized pots and allow to cool before placing lid on. The resulting mixture will be a thick gel type substance .
Enjoy making your own beauty product and revel in the amazing results. x