What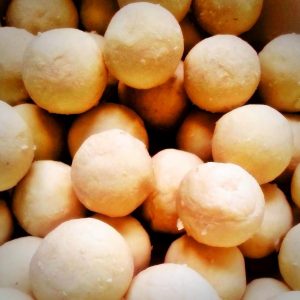 you will need:
-280gms Grated soap
-20mls cold pressed oil (Calendula or avocado)
-3mls pure essential oil (strong fragrance)
-1 cup of dried material eg. Lavender/ oatmeal/lemon verbena/ mint etc.
-1 cup boiled/ distilled water (very hot)
-3 drops of Benzoin Tincture
*All ingredients available in store and online to purchase.
Add 1ml Essential Oil, 3 drops tincture of Benzoin to 1 cup of boiled water, than mix whilst very hot to grated soap. Mix thoroughly than add 20mls cold pressed oil and mix again ensuring grated soap is blended well. Rest the mixture for 10-15minutes and than add a further 1ml of essential oil. Knead the mixture and then roll into balls of approximately golf ball size. Lay onto grease proof paper and dry in a warm place for 24-36hours. Take remaining 1 ml of essential oil, place on saucer- dip finger in and rub each soap ball untill smooth. Dry for a further couple of weeks.
Costs between $7-$9 and makes $15 balls- Golf ball size-Perfect for giving as a gift or a great addition to any gift basket.