Ginkgo Boosts Mental Abilities In The Elderly
A recent study by researchers at Liberty University in Lynchburg, Virginia, gave cognitive function tests to 262 cognitively normal people over the age of 65 and then gave them either a placebo or Ginkgo.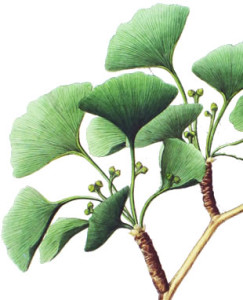 After 6 weeks, they rested the participants. The Ginkgo group showed significant improvement on several of the tests, including recall of recently learned information. The Liberty researchers submitted their study to JAMA (Journal of the American Medical Assoc.), but it was rejected. Although JAMA has published some studies showing the benefits of herbs – notable, a 1999 study showing that Ginkgo slows the progression of Alzheimer's Disease as well as pharmaceutical drugs do, and with fewer side effects – JAMA's historical bias against herbs may have played a role in its rejection of the Liberty University study. Politics aside, there is growing evidence that Ginkgo is a memory booster!
NOTE: Do not use with blood thinning medication.