GOAT'S MILK POWDER FOR SKIN HEALTH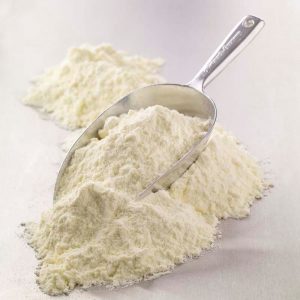 Goat's milk powder provides a substantial nutritional component for skin care and indeed general health care for all age groups.
 It is well recognized that vitamins and minerals act synergistically and offer much greater benefit and bio availability when obtained through natural food sources.
Goat's milk contains lactic acid, an alpha-hydroxyl acid, that takes apart dead skin cells from the epidermis (outer skin layer) – leaving a new fresh soft outer skin layer. Lactic acid is an exfoliant, reported to make skin thicker, firmer, more elastic and younger looking. Additionally, lactic acid can stimulate skin cell regeneration. Lactic acid acts as a gentle cleanser for skin and even for hair care. Goat's milk contains natural beta hydroxyl acid which is extremely efficient in exfoliating the dead cells from the skin – so absorption of moisture is better. Goat's milk is able to provide bounce to the hair and also makes it look shinier than ever. Hair becomes silkier and softer to touch. Small scales on the hair follicle can cause the hair to look dull and frizzy. Using goat's milk on your hair seals and smoothes the scales, making it healthier, shinier, and less damaged looking.
Goat's milk has the same P.H as human skin.
The amazing moisturising ability of goat's milk in skin care is the result of both the fat and protein composition, and the fact that the fat molecules are smaller than in cow's milk and remain, to a large degree naturally homogenized within the milk. The fat composition itself contains significantly larger amounts of medium-chain fatty acids, known as capric, caprylic and caproic acid. The larger proportion of these shorter-chain fatty acids as compared to cow's milk, combined with the smaller size, makes the fat in goat's milk more accessible to be absorbed by the skin. The nature of the protein structures in goat's milk is also different, having shorter strand proteins, which are also more easily absorbed by the skin. This greater absorption property of fat and protein help leave skin smooth and supple.
Goat's milk is very rich in many vitamins and minerals that are absorbed through the skin along with the fat and protein. Particularly important to skin health is Vitamin A, of which goat's milk contains about 47% more than cow's milk.
Goat's Milk Contains:
Pro Vitamin B5

– Attracts moisture to skin and hair. Has regenerating and softening effects.
B Vitamins

– Thiamine, Riboflavin, Biotin, Pantothenic Acid, Folic Acid, B12, plus of the B Vitamins, Goat's milk significantly exceeds cow's milk as a source of Niacin (by 350%) and B6 (by 25%)
Vitamin A

– Improves collagen density, skin elasticity, tone, texture, lines and wrinkles. Smoothes skins surface.
Vitamin C

– Protects from oxidant damage, is skin lightening, has anti-inflammatory effects, improves skin elasticity, collagen and elastin production.
Vitamin D

– Sustains healthy skin tissue, bone health.
Vitamin E

– Protects skin from oxidant damage, is moisturising, anti-inflammatory and offers healing and anti-aging effects.
Vitamin K

– For its blood coagulating properties.
Folic Acid (B9)

– Essential in healthy skin cell development, growth and maintenance of new cells.
Using Goat's Milk In The Bath
Milk baths renew and encourage growth of skin cells, plump up the collagen in skin, helps fullness and filling in wrinkles and fine lines.
Goat's milk baths result in significantly increasing skin moisture, encourages skin suppleness and elasticity – especially important in aging skin and with many skin problems. They soothe skin inflammation, irritation and improves the overall health of the epidermis. Many painful skin conditions are alleviated and redness and itching is decreased.
Because of the type of fat contained in goat's milk – we don't recommend you using skim milk powder.
Other milks and ingredients that may be added to goat's milk powder are: – Rice milk, oat milk, full cream cow's milk and coconut cream milk powder, butter milk powder and cocoa powder, plus herbs, french clays, honey, and vanilla bean.
Goat's Milk Recipes
FRENCH CLAY & GOAT'S MILK MASK
3 Tblsp White French Clay
2 Tblsp NZ Goat's Milk Powder
1 Tsp Rosehip Seed Powder (for extra Vitamin C and collagen production)
Combine all powdered ingredients into a jar and shake until well distributed.
Directions for use: Combine 2 teaspoons of mixture with your favourite hydrosol to form a thick paste.
Apply thickly to face and neck area, after first cleansing the skin.
Leave paste to dry till crack stage – then rinse off with warm water.
This lovely mask is gentle on the skin, exfoliates, deep cleanses and leaves skin soft, moisturised and toned.

BATH MILK
Take 1 cup of NZ goat's milk powder, press out any lumps and place in a glass container.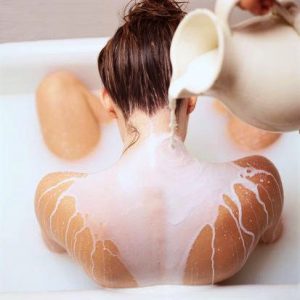 Chop one vanilla bean into the goat's milk powder, shake to distribute well, cap and leave to infuse for several weeks.
You will then have a delicious vanilla scented goat's milk powder to use in bath.
For an even more luxurious bath milk, add 6 – 8 drops of vanilla essential or fragrant oil.
Add to bath and soak for at least ½ hour to allow for best absorption of goat's milk properties.

TROPICAL COCONUT BATH MILK
1 Cup goat's milk powder
1 Cup coconut cream powder
½ Cup full cream milk powder
20 Drops tropical coconut fragrant oil
Combine all dried ingredients and mix well.
Take 2 tablespoons of dried mixture, place in a separate bowl – add tropical coconut fragrant oil and mix in thoroughly with back of spoon.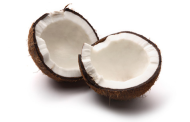 Add this back to main mixture and bottle in a glass bottle.

CHOCOLATE BATH MILK
1 Cup goat's milk powder
½ Cup coconut cream powder
¹/8 Cup cocoa powder
½ Teaspoon cinnamon powder
12 Drops chocolate flavour or oil
Combine all dried ingredients by stirring well in a bowl.
Take out 2 tablespoons powdered.
Mix and add chocolate flavour or oil to this powder and press well with the back of a spoon so the oil is correctly combined.
Add this back into main mixture.
Bottle in attractive glass container.

HAIR MASK
¾ Cup goat's milk powder
¼ Cup french green clay
10 Drops pure essential oil of choice
Small amount of hydrosol of choice
Combine goat's milk powder and french clay and mix well.
Add pure essential oil to a small amount of powder mixture till well combined, then add back into the main mix.
To use – Mix powder with hydrosol to a very thick paste. Apply to dry hair and coat thoroughly, ensuring the hair shaft is well coated.
Leave till hair is dried – then rinse till hair comes clean. There is no need to shampoo.
This mixture thickens the hair and leaves hair smooth, soft and silky.