¾ Cup goat's milk powder
¼ Cup french green clay
10 Drops pure essential oil of choice
Small amount of hydrosol of choice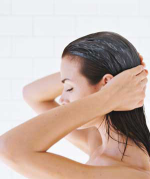 Combine goat's milk powder and french clay and mix well. Add pure essential oil to a small amount of powder mixture till well combined, then add back into the main mix.
To use – Mix powder with hydrosol to a very thick paste. Apply to dry hair and coat thoroughly, ensuring the hair shaft is well coated. Leave till hair is dried – then rinse till hair comes clean. There is no need to shampoo.
This mixture thickens the hair and leaves hair smooth, soft and silky