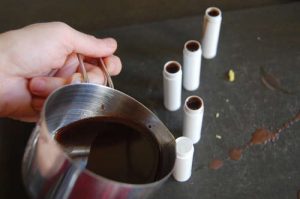 • 1 Teaspoon Shea Nut Butter
• 1 Teaspoon Mango Butter
• 1 Tablespoon Jojoba oil
• 6 Drops lip balm sweetener
• 8 Drops chocolate flavour
Melt butters and oil together in a double boiler till fully blended. Remove from heat – pour into a jug and add sweetener and flavour. Stir to combine and pour into roll on bottles.