Scrubs are easy and inexpensive to make, easy to use and can be most effective in revitalising the skin by removing dead skin cells, increasing circulation and stimulating cell renewal. Scrubs can unblock the pores of dead cells and because of their exfoliating action can beautify dry, aging, flaky, oily, rough textured and acne-prone skin types.
Scrubs promote a more youthful complexion, helping to ease fine lines and wrinkles, remove toxins and blemishes and ease dry, itchy skin conditions.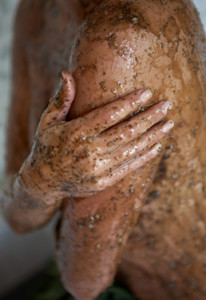 A scrub uses friction to help slough off the build-up of dead skin cells, especially helpful when the skin becomes sluggish and tired, looking dull and lifeless.
Your skin renews itself approximately every 28 days, but as skin ages cellular renewal decreases and if dead cells are not removed, circulation slows down and skin becomes dull and lifeless.
Gentle and skin suitable exfoliating scrubs can be used for the face, neck and entire body. Scrubs are suitable for men and teenagers and women of all ages, providing the scrub is appropriate for the age, condition and skin type.
Most facial scrubs are made from dried ingredients that are mixed or ground together – moistened before applying to the skin.
A body scrub may be used to exfoliate other areas of dead skin accumulation, such as hands, feet, knees and elbows.
Commercial soaps are not only full of nasty chemicals, but they strip the skin of its natural oils, alter the skin PH, dry the skin and are simply one of the most damaging and ageing products one could ever apply to the skin.
Scrubs may contain ingredients that are antimicrobial, antiseptic, astringent and healing, depending on the ingredients chosen when creating your scrub. They may be made to be extremely gentle on delicate skin or to treat blemished, acne-prone skin types – or designed for any number of skin conditions or age groups. It all depends on our choices of ingredients, which we will take somewhat of an in-depth look at shortly.
So, the use of scrubs whilst wonderful for improving all skins, should not be overused, or harshly used by scrubbing too often or too vigorously. Excessive scrubbing could tear delicate sensitive skin, or dry the skin too much if overused – as with anything, use common sense and use an appropriate scrub type for the particular skin.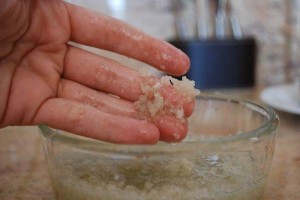 –         Generally 2 – 3 times a week would be sufficient use for normal, combination and oily skin types.
–         For blemished acne-prone skin, every second day initially, then 2 – 3 times weekly at the most.
–         For delicate, sensitive and aged skins, use once a week, using a gentle scrub formula.
We want to aim for a feeling of a: smooth, invigorated, clean, but nourished feel to your skin afterwards.
So let's take a look at some of the ingredients that may be combined in scrubs.
Oatmeal 
(Preferably Organic Rolled Oats.)
This is one of my personal favourites; Oatmeal is especially good for dry, itchy, irritated and sensitive skin types. Rich in vitamins and minerals, Oatmeal is highly moisturising and skin softening. It suits all skin types and skin conditions.
It needs to be ground somewhat for best results, so grind your rolled oats in a coffee grinder or blender, or we stock Organic
Colloidal Oatmeal which is a superfine grade, if this suits your particular recipe.
Oatmeal absorbs oil, cleanses and softens and is suitable for acne and blemished skins. Oatmeal is also wonderful in the bath for soothing irritated, itchy skin and is safe and effective in bath water – even for babies.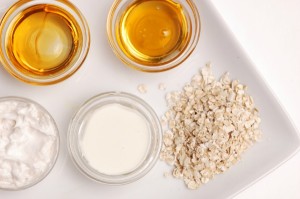 I do not recommend purchasing supermarket Oatmeal, grinding your own rolled oats is a far superior option and much more beautiful to use.

Ground Almonds
Almonds are a member of the rose family of plants and have been grown and used since prehistoric times. Highly nutritious and alkalising, they soothe skin inflammation whilst providing protein, vitamins, minerals and a high level of omega-3. When used in scrubs or masks, ground almonds are toning, nourishing and rejuvenating to all skin types. Very gentle.

Arrowroot
Arrowroot is a tuber, much used in the kitchens of old for making jelly, sauces and puddings. It is included here because it is an extremely gentle but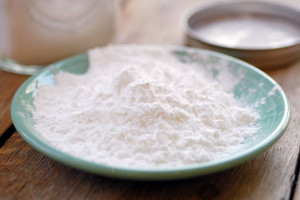 most effective ingredient for highly sensitive and/or inflamed, irritated skin types. It will assist with heat rashes or any irritated skin conditions and is gentle enough for small children to use.
Mix it with White French Clay for a dry, highly absorbent talc, excellent for athletes foot problems, excess moisture under skin folds, or for a dry shampoo or baby talc that is free of all chemicals. It may be used as a wet mask by mixing with your favourite hydrosol or used in a scrub with raw sugar and coconut oil.

Coconut Cream Powder
This beautiful organic highly nutritious powder is simply divine when used in the bath, in masks, scrubs, smoothies, deserts etc. Very creamy and is produced from the inner coconut flesh and carries a lovely but not excessive natural fat content which is high in lauric acid. It is soothing, nourishing, anti-fungal and immune system enhancing.
Very good for skin with lots of dryness and/or infection present. But may be safely mixed for all skin types. Mix with a clay for a wonderful face and body mask, or combine with sugar and oil for a great scrub.

Coffee
Choose freshly ground organic beans for best results. Coffee is very stimulating and wonderful in scrubs for cellulite control. I like to mix this with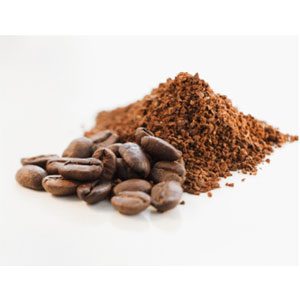 coconut sugar and oil for a superb scrub to stimulate drainage in areas of cellulite on the body. Adding a few drops of the pure essential oil of coffee adds to the effectiveness of this yummy scrub. Vanilla and Cinnamon may also be added to create your own unique formula.

Ginger
Use organic ground ginger, mixed with sugar and coconut oil for a scrub to improve circulation, create warmth and to clear toxins from the body. As a scrub this will stimulate and warm stiff and painful joints, reduce inflammation and assist in eliminating waste substances from the body. A few drops of pure essential oil of Ginger adds to this wonderful scrub.

Pineapple Powder
This sweet, slightly sticky powder is so edible when combined with coconut cream powder and white sugar. Adding oil to this mixture will create an enzyme rich scrub which is a powerful exfoliator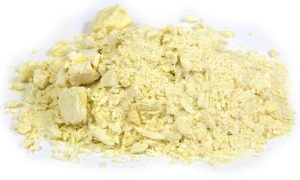 of dead skin cells anywhere on the body. High in vitamins A, C and minerals and an enzyme called Bromelain. it is helpful for slimmer's, for inflammation and is extremely rejuvenating to the skin.

Rose Powder
Another very gentle ingredient for all skin types, but particularly for sensitive skins. High in vitamin C and A, Rose is calming, soothing, healing and most regenerating when used in scrubs. It may be mixed with White or Pink French Clay, or with fine sugar and coconut cream powder and oil for a very gentle scrub.

White or Green Tea
Grind this very slightly so a little texture remains, but it is not irritating on the skin. Mildly stimulating and very high in antioxidants which assist with infection and inflammation. White and Green tea attack fats, they are astringent and are helpful to assist slimming when used as scrubs on body areas of higher fat deposits. Combine with raw sugar and coconut oil and use 3 – 4 times weekly.
Some Recipes to Try
~ Gentle face mask of roses ~
Rose Hydrosol
3 Drops French Rose Essential Oil
1 Tblsp White or Pink French Clay
1/2 Tblsp Organic Rose Powder
Combine these two dry ingredients till combined. Add 3 drops of pure essential oil of French Rose to approx. 1 tsp of this powder and grind well into powder – then combine all. Place in a glass pot and use approx. twice a week.
1 good tsp of the powder mixed to a thick paste with a small amount of Rose Hydrosol and applied to face and neck. Leave till crack dry, then wash off with warm water. Dry and spray face and neck with more Rose hydrosol and leave to air dry. Apply a gentle moisturiser.

~ Stimulating Face Mask ~
1 Large Tblsp Green French Clay
2 Tsps Organic Coconut Cream Powder
1 Tsp finely ground White Tea
Neroli Hydrosol
Combine these 3 dry ingredients well and store in a glass pot.
Use 2 tsps. of the powder mixed to a thick paste with a small amount of Neroli Hydrosol.
Apply to face and neck and leave to crack dry stage. Rinse off with warm water. Dry and spray with Neroli Hydrosol and leave to air dry. Apply your favourite moisturiser.

~ Collagen Regenerating Exfoliating Cream ~
1 Tblsp Organic Moisturising Base Cream
3/4 Tsp fine ground Pumice Powder
1/2 Tsp finely ground Dragon's Blood Resin
2 Drops of Citricidal C
2 Drops of Tincture of Benzoin
5 Drops of Horsetail Tincture
3 Drops of Pure Essential Oil of Elemi
Combine all of the above in a glass bowl and mix well. Place in an amber glass pot. Use 1 to 2 times weekly by applying to the skin in circular motion until dead skin cells are removed by the gentle rubbing.
This exfoliator is healing, antiseptic, gentle, but most useful for damaged tissues like acne, eczema, psoriasis and for general regeneration of skin cells contributing greatly to cellular regeneration of collagen and elastin when used 1 to 2 times weekly.
It leaves the skin exfoliated but gently moisturised at the same time.

~ Cellulite Scrub ~
2 Cups Coconut Sugar
1 Large Tblsps freshly ground Coffee Granules
2 – 3 Tblsps Apricot Kernel C.P Oil
3 – 4 Drops of Pure Essential Oil of Coffee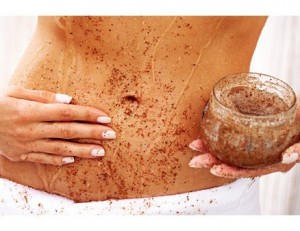 Combine dry ingredients first and then add the Apricot Oil and mix till the consistency of damp sand. Add Coffee Pure Essential Oil and place in suitable pot.
Rub the scrub well into cellulite deposits of the body and rinse off with warm water.
Use approximately 3 times weekly for best results.

~ Warming, Toxin Clearing Scrub ~
2 Cups White Sugar
1 Large Tblsp Coconut Cream Powder
1 Large Tblsp Organic Ginger Powder
1 Cup Organic Coconut Oil (Solid Form)
5 Drops Pure Essential Oil of Ginger
Combine Coconut Cream Powder with the Ginger Powder – add to the White Sugar and mix well. Blend the Ginger Essential Oil into the Coconut Solid Oil until well mixed, then add the dry ingredients forming a thick paste. Rub this scrub into arms, legs and body trunk several times per week and rinse off with very warm water.

Note:
Sugar is in my opinion superior to harsher scrub formulas made with salt. Sugar acts as an antiseptic and effective exfoliator without irritation or drying of the skin.
Coconut in any of the forms in these recipes has been shown to stimulate cell division and repair of skin cells, due to coconut's high levels of Cytokinins. Cyktoinins retard the effects of aging and are potent antioxidants helping to prevent collagen damage to skin cells and body tissues. Cykotinins are "life prolonging" helping to strengthen the connective tissues in the skin, firming and replacing aged, dry sagging skin with smoother, softer younger skin cells.
So, my message is "to use coconut in as many forms as possible for the ultimate natural regenerator".
Exfoliants available in our herbal dispensary:
French Clays and Clay Powders (see our clay section on this website)
Sandalwood Powder
Organic Flax Seed
Dragon's Blood Resin
Organic Colloidal Oatmeal
Pumice – fine grade
Organic Walnut Shell Powder
Organic Apricot Kernel Powder
Kiwi Fruit Seed Powder
Organic Hemp Seed Powder
Organic White Tea
Organic Green Tea
Organic Rose Powder
Diatomaceous Earth
Organic Ginger Powder
Organic Coconut Cream Powder
Pineapple Powder
Organic Spinach Powder
Not stocked at our herbal dispensary, but available in supermarkets:
Ground Almonds
Organic Coffee
Arrowroot Powder