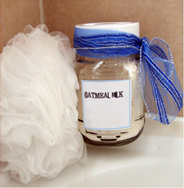 An amazing skin soothing and softening bath product. Effective for eczema, psoriasis, chicken pox, measles etc.
1 Cup Goats Milk Powder
½ Cup Full Cream Milk Powder
1 Cup Colloidal Oatmeal
60 Drops Lavender Pure Essential Oil
Grind lavender essential oil carefully into ½ cup full cream milk powder ensuring no lumps of oil.
Then combine all ingredients thoroughly.
Place in an attractive glass bottle or jar.
Use approximately ½ cup per bath or more if desired.