This delicate sugar has a multitude of uses: It can be used to sweeten cakes and sauces, stirred into cream or yoghurt for subtle flavouring and substituted for castor sugar in rose-water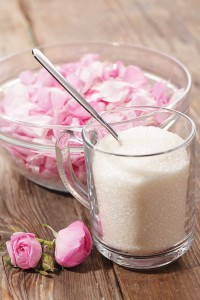 biscuits.
Ingredients:
5 cups highly scented dried rose petals
1 cup castor sugar
3 – 4 drops pure essential oil of French Rose
Grind the rose petals in a food processor of liquidizer with a little sugar, until the consistency of coarse sand. Add 1 drop of essential oil to each batch ground. Bottle and store for that unique "difference" in food dishes.