A Herb To Not Forget:
ROSEMARY -For Remembrance
Easy to grow with many colours and types available and a much loved herb for the kitchen.
Symbolically linked with romance, marriage and death through the theme of remembrance, rosemary does in fact impact greatly on the body and in particular many aspects of the head and brain.
It stimulates circulation, memory and concentration, improves digestion and absorption and keeps us alert and more active depending on how we use it.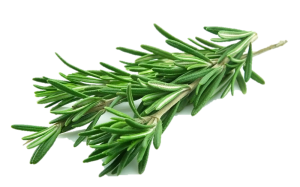 It assists hair growth and scalp health by stimulating the hair follicle when applied as an essential oil mixed with a carrier oil such as Jojoba and applied 2 – 3 times weekly.
Rosemary essential oil applied in a tiny amount of carrier oil is most effective for long hours of study, for sitting exams, staying awake when driving and generally when improved concentration is needed.
(Do not use in the evening as it will keep you awake!)
3 drops of pure essential oil of Rosemary added to the bath water (early in the day) will stimulate these responses as well. A cup of rosemary tea will wake you up when feeling sluggish, but by far the strongest form of rosemary to use is the pure essential oil.
A lovely infused oil of fresh or dried rosemary (see our website for infusing oils) is wonderful when massaged into sore, stiff and aching joints, bringing increased blood flow to the area.
Add some pure essential oil to your infused oil for a much stronger product.
This oil is wonderful in the kitchen for a very flavourful oil for cooking, roasting and salad dressings. These are also much appreciated and easy to make Christmas gifts.
Rosemary Pure Oleoresin is used to extend the shelf life of all of your cold pressed oils, simply by adding 2 drops per 100mls of cold pressed oils – this helps when creating your own creams and lotions. Rosemary kills many forms of bacteria, moulds and fungi when correctly used for preserving the shelf life of many products.
Rosemary is a powerful herb – do not use to excess. More is not always better, as rosemary has the potential to irritate the skin and/or keep you awake when used to excess.
*Do not use where epilepsy is present.
ROSEMARY HONEY
Using a double boiler, very gently heat 1 cup of honey with 1 cup rosemary leaves, stems, flowers etc for 10 minutes. May use fresh or dried (not wet), then place all in a large warmed jar and leave for 2 – 3 weeks.
Heat gently again and strain thoroughly, then place in jars.
This yummy honey may be used when baking or roasting – or as a ssweetenerin drinks or simply take 1 tsp 2-3 times daily to improve digestion and gut health and to perk yourself and your brain up.
~ Also makes for a great gift
*Do not use if in pregnancy or epileptic.