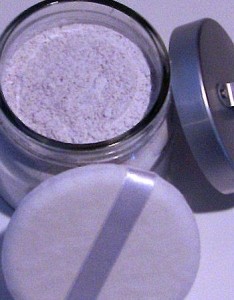 • 1 Tablespoon White French Clay
• 2 Tablespoons Rice Flour
• 1 Tablespoon finely ground Calendula Flowers, Chamomile Flowers or Sandalwood Powder (whichever one preferred)
• 1 Good teaspoon of Orris Root Powder
• 3 Drops fragrant oil of Violet
• 3 Drops fragrant oil of Gardenia
• Or 6 Drops of your favourite pure essential oil.
Grind fragrant or essential oil into the Orris Root Powder till well blended. Combine this with all dried ingredients, mixing all well together. Place this mixture into a glass container, seal and leave for several weeks for all the ingredients to blend their fragrances together.
NOTE: This mixture keeps its fragrance for years if correctly made.
Package into attractive containers with a dusting puff – use as you would talcum powder.